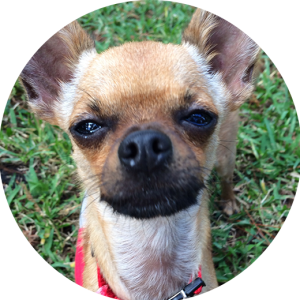 Meet Timón
Allow me to introduce myself. My name is Timón and I am a Chihuahua. My mom adopted me when I was about 8 months old. She was my third home. When Lisa found me, I was in need of a new home because I barked too much. The lady who was fostering me, Jackee, worked with Lisa and told her to come meet me. Lisa brought her BIG dog, Parker, over to meet me and I thought they were both pretty cool. The next thing I knew, we all went home together. I was soooo happy!
For two and a half months, Parker taught me everything about Lisa. This was good because we didn't realize that Parker was very sick. Soon, though, Parker was diagnosed with cancer and had to cross the Rainbow Bridge. My poor mom was a basket case. But, fortunately, Parker had prepared me for this task of taking care of her.
Since Parker wrote the first two Wine and Sushi books, she wanted to make sure I was ready to carry on. One day, Parker said "Timón, if you concentrate hard enough, you can channel Lisa's other dogs and me, and you can finish the third volume of the trilogy."
So, now, here I am, and "The Discovery" is full of great lessons for all of us!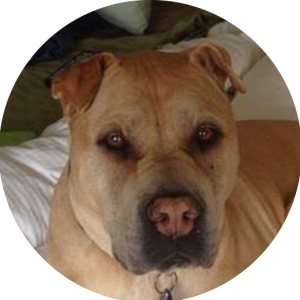 Meet Parker
Parker was a Sharpai/American Staffordshire Terrier. She lived a wonderful life with Lisa, spent a couple of months with Timón, and then crossed the "Rainbow Bridge" so she could keep a closer eye on everything in Lisa and Timon's life. When she was here, Parker was an avid reader, enjoyed non-fiction relating to psychology, exercise and fitness, and cooking. She also enjoyed unwinding with fictional stories that involved dogs.